Our Story
Founded in 2016, I'm River Pretty was inspired by good friends of mine Bart & Patty, who are the owners of a local kayak and fishing shop near Denver, Colorado. I was fortunate to be on a 21-day Grand Canyon trip with them where we rafted, kayaked, stand up paddle boarded, played in the side creeks, hiked, and camped. Ahhh... sounds awful, right?
Half way through the trip after not showering for several days, Patty turns to her husband Bart and asks him "Honey, am I pretty?"
(long pause)
Bart replies, "Well... uh... uh... you're river pretty!"
So for the rest of the trip we were calling ourselves "river pretty".
It's crazy how the outdoors makes us look and feel so good. We don't need makeup and our hair styled for a river trip. If you're enjoying your time on the river, then your true natural beauty comes out. So go ahead and put on a tutu and proudly tell everyone "I'm River Pretty!".
Yours truly,
Jodi Lee
Owner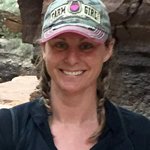 ABOUT THE FOUNDER/OWNER - JODI LEE
I grew up in Anchorage, Alaska where many of my family vacations consisted of camping, backpacking, and rafting trips. This started my love of the outdoors. When I was 22, I moved to Denver, Colorado and shortly after met my husband, Ryan. He taught me how to whitewater kayak in 2001 and it quickly became one of my favorite sports. Between Ryan's love of rafting and my love of kayaking, most of our time off in the summer is spent on the river with friends and family. Among my friends, I'm known for running around camp yelling "I love camping!" and doing handstands.